Moeen Ali english cricketer confirms his retirement and England Test career is over, won't tour India next year.
This time, Moin Ali is not keeping anyone's request. Ben Stokes and coach Brendon McCullum came out of retirement and returned to Tests . His performance in the Ashes clearly shows why he was brought back. It was Moeen who took 3 wickets in the second innings of the Oval Test as well.
The Ashes is over then? England's next test in Tests is against India in early 2024, also on Indian soil. McCullum felt the need for Moeen again in such a series. However, Moeen Ali is not able to keep the request anymore, he has clearly stated, 'I am finished here.'
Moeen Ali scored 180 runs and took 9 wickets in 4 Ashes Tests. Although the runs and wickets were not very high, he was effective. He took wickets at important times. He also had to fight with injuries .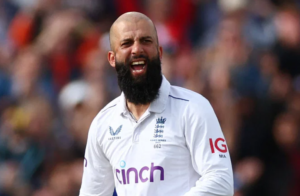 The reason why Moeen will not play in the India series despite the team's request is also interesting. One of the reasons why the English did not want to tour India was the lack of playing in a big venue. Moeen, however, explained the reason with a smile, 'They (McCullum and Stokes) knew my decision from the start. Especially when the venues for the India tour were announced. Buzz (McCallum) told me again, I said, no, I'm not going to India. There is no chance of going to India. my end It's great to finish like this and be a part of such a great day.'
Moeen believes that Test cricket is the best version, even though he quit Test cricket earlier, 'Test cricket is the best. If I could go back! Although my career has had ups and downs, I wouldn't have changed. I just love it. And it was difficult to come back like that, because I had never done well against Australia before.'
The English all-rounder still can't believe he came back and played so well after two years, 'I still can't believe I did so well. It was great to finish like that. It was tough, but I had nothing to lose, it was like a free-hit. I thought I was bowling well, just worried about the finger. I was not worried at all about bowling.'
Moeen quit Test cricket for the first time in 2021. After that due to the injury of Jack Leach, Moeen returned to the Test due to the need of the team and departed from the Test arena with Broad in the Oval Test.