Cristiano Ronaldo has played with power for 20 consecutive years in European club football. The Portuguese striker joined the Asian football after studying in England, Spain and Italy. He signed a two-and-a-half-year contract with Al Nasser, a club in the Middle East country of Saudi Arabia. The Portuguese star wants to share his two decades of experience in the Middle Eastern country.
Saudi Arabia's local media 'Saudi Gazette' reported in a report that Cristiano Ronaldo will also work as an ambassador of Saudi football after his playing career. As a result, the Muslim leader is raising new questions in the minds of football fans about Al Nasser Club of this country.
Al Nasser is one of the leading clubs in Saudi Arabia. The club based in Riyadh, the country's capital, was founded in 1955.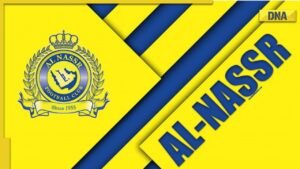 Al Nasser is one of the leading clubs in Saudi Arabia. The club based in Riyadh, the country's capital, was founded in 1955. The club plays in the Saudi Professional League (SFL), Saudi's top football competition. Another name of the competition is Abdul Latif Jamil League or Dauri Jamil.
In Al Nasser club, Ronaldo will have Cameroon captain Vincent Abubakar who defeated Brazil in Qatar World Cup, Colombian goalkeeper David Ospina, former Brazilian midfielder Luis Gustavo of Bayern Munich and Benfica midfielder Talisca as teammates. Apart from this, six footballers from Saudi Arabia, who were in the last World Cup squad.
Former French footballer Rudy Garcia is in charge of the head coach of this club. During his playing career he played for Ligue 1 club Lille. After his playing career, Garcia has been involved in coaching for 28 years. He was the coach of French Ligue'R clubs Marseille and Lyon. He was also in charge of the Italian club Roma for 3 years. Then this year he joined Al Nasser.
Al Nasser Club has won the second highest number of titles (9 times) in the domestic league of Saudi Arabia which started in 1976. In the last three seasons in this league, the champion Al Hilal club has won a maximum of 18 times. Ronaldo's club last won the title in the 2018-19 season.
Like Europe, the football season in Saudi Arabia also starts in August. Where 16 teams face each other twice on 'home-away' basis. Where each team plays 30 matches and the team with the highest points wins the title. And the top three teams in the league play in the AFC Champions League.
In addition to the Saudi Professional League, Al Nasser also plays in the King's Cup, Crown Prince Cup, Federation Cup and Saudi Super Cup. Apart from this, the club also has the experience of winning titles in GCC Champions League at regional level and Asian Cup Winners Cup and Asian Super Cup at continental level.
In the current 2022-23 season, there have been 10 rounds of matches in the Saudi Arabian league so far. Where Riyadh-based club Al Shabaab is at the top with 25 points. Second placed Al Nasser club has 23 points. And Al Hilal's position is fourth with 21 points.
Al Nasr also has its own stadium. The team's home venue, King South University Stadium, opened its doors in 2015 with a capacity of 25,000. Last year, a friendly match between Barcelona and Boca Juniors was held at this ground in memory of Argentine legend Diego Maradona.