Bangladesh Cricket team started last year with a historic Test win against New Zealand. Then the Tigers won the series in South Africa for the first time. But if you think about the overall aspect, Shakib-Tamim could not paint the year 2022 like that. The Bangladesh team has a busy cricket schedule almost throughout the new year as well. In addition to the bilateral series, the representatives of red and green will participate in important tournaments such as ODI World Cup and Asia Cup this year.
According to the schedule, the ninth edition of BPL, the country's only franchise tournament, will be held from January 6 to February 16. After that, the bilateral series against England will start at home from March 1. The Tigers will play three ODI and T20 matches against Jos Buttlers in the tour.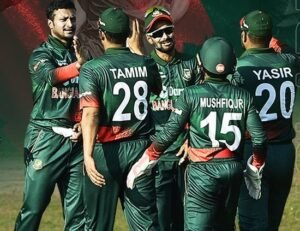 The Ireland team will visit Bangladesh as soon as the England series is over. The Bangladesh team will play one Test, three ODIs and three T20Is against the Irish during March-April. Then the Bangladesh team will leave the country to play against Ireland in the last ODI Super League journey in May. The Tigers will also play four T20 matches along with a three-match ODI series in the tour.
After that, the Afghanistan team will visit Bangladesh in June. Where Shakib-Tamim will play two Tests, three ODIs and three T20 matches against the visitors. The Tigers will take part in the Asia Cup, an ODI format, organized in September with the World Cup in mind. However, there are concerns about hosting this tournament in Pakistan.
The New Zealand team will come to Bangladesh at the end of September. The Kiwis will play three ODIs and two Test matches in the series. This series will be in two parts. Kane Williamson will play ODI with Bangladesh in the first part. Then there will be a Test match in the second part of the ODI World Cup to be held in India.
Next will be the ODI World Cup. It is scheduled for September. Although the date is not finalized yet. Bangladesh will play directly in the main stage of the World Cup as it is in the Super Eight of the points table. The Tigers will go to New Zealand again in December for the return tour.